EVENTS
There are many local festivals or matsuri held in the various towns and villages in the area, providing the opportunity to meet the locals and sample regional cuisines. All towns have a matsuri that usually incorporates the famous local meibutsu or product into festivities.
JANUARY
NEW YEAR
CELEBRATIONS

Traditional customs imbued with meaning are derived from centuries old harvest thanksgiving rituals and ancient religious ceremonies. Enjoy mochi rice cakes and admire shop or home entrances decorated with pine and bamboo kadomatsu or shimenawa braided straw ropes to welcome the Shinto gods at the start of New Year.

NEW YEAR
GONDOLA RIDE

In Japan, the first sunrise of the New Year is believed to have special supernatural powers. Prayers for health and well being of family are directed to the sunrise and have been a popular practice since the Meiji era. Take a gondola ride for best sunrise and seek blessings.

When : 1 January

Where : Niseko Gondola
COMING OF AGE DAY

Ceremonies for boys and girls who have reached the age of 20 to celebrate the honour of attaining adulthood. Often held at home, special kimonos are worn by women and small gifts are given to the new adult.

When : 2nd Monday of January

FESTIVAL OF JAPAN

Organised by locals to highlight Japan's unique cultural experiences, the festival brings together artisans and performers, interactive art classes, sumo wrestlers and cultural ambassadors. Starting times for daily festival events coincide with early après ski.

When : End January

Where : Major locations in Niseko United
FEBRUARY
SAPPORO SNOW
FESTIVAL

This spectacular seven-day festival has been running since 1950. Local and foreign teams compete in the Snow Statue Contest where sculptors create hundreds of amazing art out of snow and ice, some the size of multi-storey buildings.

When : Early February

Where : Odori Park, Sapporo

OTARU SNOW LIGHT
PATH FESTIVAL

Lanterns and snow statues decorate Otaru for ten days during this winter festival, usually coinciding with the Sapporo Snow Festival. Two main festival areas that are lit up daily are at Unga Kaijo and Temiyasen Kaijo.

When : Early February

Where : Otaru
KUTCHAN YUKITOPIA FESTIVAL

A two-day, quirky traditional Japanese town festival where one big draw is the challenge to ski or snowboard across an icy pool in a quest for fame and fortune. Other highlights include cooking contests, snow games, dancing and a host of food stands.

When : Late February

Where : Asahigaoka Ski Field, Kutchan
MARCH
HINA MATSURI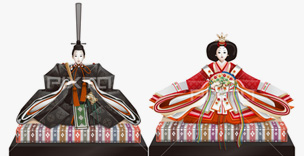 Hina Matsuri, also known as Doll Festival or Girl's Festival is when families with girls wish their daughters a successful and happy life. Dolls are displayed in the house with peach blossoms; sweet sake drunk and chirashi sushi is consumed.
APRIL
JOZANKEI KEIRYU KOINOBORI

At this spring event, locals hang hundreds of colourful carp streamers across the village stream. The fluttering koinobori or carp streamer simulates swimming against the current and symbolises the parents' wish for their children to overcome difficulties in order to achieve great things.

When : Mid April

Where : Jozankei Onsen, Sapporo

CHERRY BLOSSOM VIEWING

The most popular time of year in Japan is when the cherry blossom bursts into bloom. Find a nice patch early under the pink canopy to enjoy the scene before the crowds descend.

When : Mid April

Where : All over Hokkaido
MAY
LILAC FESTIVAL

Sapporo's traditional flower symbol is in full bloom and fills the air with their sweet scent, marking the start of spring. Events include music festivals, open tea ceremonies, lilac seedling giveaways and food stalls.
When : End May
Where : Odori Park, Sapporo
JUNE
MORI NO CAFE FES

Café and Festival in the Woods or Mori no Cafe Fes is perfect for those seeking an eco-friendly lifestyle, relaxing music and freshly brewed coffee amidst Niseko's beautiful nature while browsing through unique eco-goods and food and beverage stalls.

When : June

Where : Niseko Village

YOSAKOI SORAN FESTIVAL

Since 1992, this energetic dance event featuring naruko clappers and Soran Bushi folk melodies, has turned into an international event with 30,000 dancers from Japan and abroad. Besides the choreography, vibrant costumes and make-up are part of the attraction.

When : Early June

Where : Odori Park, Sapporo
HOKKAIDO SHRINE FESTIVAL

This parade marks the start of summer in Sapporo as the o-mikoshi or portable shrine is carried by chanting people in traditional costumes, accompanied by musicians playing flutes and drums with dancers along the way. The procession ends at Hokkaido Shrine where the shrine carriers pay their respects to the gods.

When : Mid June

Where : Nakajima Park to Hokkaido Shrine, Sapporo
JULY
TOYOHIRA RIVER FIREWORKS FESTIVAL

This fireworks tradition held along the banks of the Toyohira River, marks the height of summer in Sapporo. The yukata-clad locals eagerly await the stunning annual display of about 4,000 fireworks being set off.

When : Last Friday of July

Where : Best view between south 9 - 14 bridges, Sapporo

THE SAPPORO BEER FESTIVAL

Odori Park transforms into Japan's largest beer garden for a month, featuring major local and international brewers with local delicacies being served up!

When : Mid July

Where : Odori Park, Sapporo
AUGUST
KUTCHAN JAGA MATSURI

Also known as the Potato Festival, this two-day festival is Niseko's largest and celebrates the important local crop with an extravaganza of performances, fireworks and a delicious array of potato-based dishes.

When : Early August

Where : Kutchan Town

NISEKO HANAZONO HILL CLIMB

Coinciding with the annual Kutchan Jaga Matsuri, the Niseko Hanazono Hill Climb is a challenging cycling sprint between Mount Niseko Annupuri and Mount Iwaonupuri that attracts hundreds of competitors.

When : Early August

Where : Kutchan Town to Goshiki Onsen
IRONMAN JAPAN TRIATHLON

One of 30 in the global IRONMAN series, the triathlon begins with a 3.8km swim in Lake Toya, a deep volcanic caldera lake. Athletes will continue on an 180km bike loop with a fast 30km section around the lake and several climbs as the course meanders through patchwork farmland, lush forests and around the base of majestic landmark, Mount Yotei before concluding with a two-lap out-and-back course that will comprise of the 42.2km marathon.

When : August

Where : Lake Toya

HOKKAIDO MARATHON

Held since 1987, the Hokkaido Marathon is a major annual event open to both sexes with a full marathon and an 11.5km fun run. The 42.195km course, sanctioned by the Japan Association of Athletic Federations (JAAF) and the Association of International Marathons and Distance Races (AIMS), makes it eligible for world record performances.

When : End August

Where : Sapporo
SEPTEMBER
THE NISEKO FESTIVAL

This 3-week event ties Kutchan, Niseko and Rankoshi towns in one large festival over several locations. As a traditional Japanese summer festival, expect al fresco set-ups, local food and beer vendors, musical performances and dance exhibitions.

When : Early September

Where : Niseko

NISEKO CYCLE WEEK

Niseko plays host to this fantastic weeklong event that aims to educate and promote a clean and active lifestyle. The activities and competitions feature a mix of beginner events, road cycling, time trails, mountain biking downhill and cross country, making this a paradise for amateurs or veterans.

When : Early September

Where : Hirafu / Niseko / Kutchan
NISEKO MARATHON FESTIVAL

The annual Niseko Marathon allow for participants to enter as an individual, family or group with distances ranging from half marathon, 10km, 5km and 3.5km.

When : Mid September

Where : Niseko Athletic Sports Field
OCTOBER
NISEKO HALLOWEEN

An onslaught of kids in the guise of tiny ghouls, goblins and ghosts wander Annupuri for the annual Niseko Halloween Party. Packed with fun events, trick or treats, a costume contest and a variety of food including items made from iconic pumpkins and locally grown produce.

When : Early October

Where : Niseko Annupuri International Ski Field

SAPPORO CHRYSANTHEMUM FESTIVAL

As Japan's unofficial national flower and the Imperial Family's symbol, the chrysanthemum is considered an important flower. The annual Sapporo Chrysanthemum Festival has been held since 1963 with over 800 chrysanthemums exhibited alongside exquisite arrangements. Experience the beauty of these flowers and learn tips from horticulturalists from Hokkaido.

When : End October

Where : Odori Subway Station underground walkway, Sapporo
NOVEMBER
MIKAKU FIESTA

Celebrate the best seasonal local produce with chefs from Niseko's most reputable establishments combining their culinary talents to showcase an array of mouth-watering dishes for foodies with live jazz music setting an upbeat tone.

When : Early November

Where : Hilton Niseko Village

SAPPORO WHITE ILLUMINATION

This charming tradition held since 1981, features an artistic display of thousands of lights powered by renewable energy and decorations lining the trees. A Christmas market is held together with the illumination festival.

When : Mid November - Christmas

Where : Odori Park, Sapporo
DECEMBER
CHRISTMAS IN NISEKO

Take a photo memento with Santa's reindeer on the eve and wait for Santa to drop in with gifts for the little ones on Christmas Day.

When : Christmas Eve + Day

Where : Niseko Village

RINGING THE OLD YEAR OUT

Japanese consider this to be an important day and a popular old custom is having soba noodles for dinner or as an evening snack to wish for longevity. As midnight nears, temple bells are struck 108 times, as it is believed to forswear the 108 human desires. Don't miss the spectacular torchlight run before the countdown and the fireworks show at midnight.

When : 31 December

Where : The Green Leaf Niseko Village